Vous craignez une attaque Proxy, d'injections SQL, faille, infiltrations et bien d'autres!
Il existe un Plugin sous Cpanel qui permet de sécuriser les requêtes HTTP par des règles et directives propres.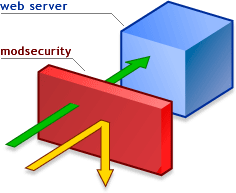 C'est donc un module qui se couple avec Apache qui est très robuste et relativement Plug and Play (mais très compliqué à configurer)
Il y a donc moyen de filtrer des chaines de caractères telles que : drop, insert, exec, make, install, qui n'ont rien à faire dans les requêtes HTTP.
Installation
Pour l'installer il faut se rendre dans le WHM, Onglet Software -> EasyApache (Apache Update)
Previously Saved Config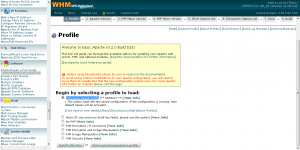 Next step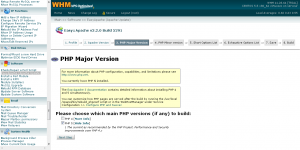 Next step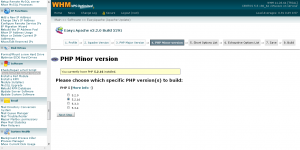 Next step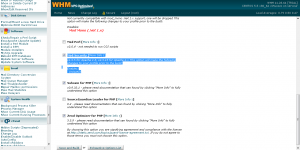 Cochez le "Mod Security" puis "Save and Build" et attendez 10minutes qu'apache se re compile.
Gestion
Relancé le WHM, Onglet Plugins -> Mod Security
Edit config -> Default Configuration -> Save configuration
Et voila votre Mod sécurité bloquera les requêtes un peu spécial/louche avec la configuration par défaut.
Pour ceux qui n'ont pas Cpanel et qui n'ont pas envie de créer leur propres règles :
Je vous conseil l'articles : http://www.tux-planet.fr/installation-et-configuration-de-modsecurity/ (merci pour la tof)
Et la configuration suivante :


# Deprecated due to security issues so it should be off: http://blog.modsecurity.org/2008/08/transformation.html
SecCacheTransformations Off

# Check Content-Length and reject all non numeric ones
SecRule REQUEST_HEADERS:Content-Length "!^\d+$" "deny,log,auditlog,msg:'Content-Length HTTP header is not numeric', severity:'2',id:'960016'"

# Do not accept GET or HEAD requests with bodies
SecRule REQUEST_METHOD "^(?:GET|HEAD)$" "chain,phase:2,t:none,deny,log,auditlog,status:400,msg:'GET or HEAD requests with bodies', severity:'2',id:'960011',tag:'PROTOCOL_VIOLATION/EVASION'"
SecRule REQUEST_HEADERS:Content-Length "!^0?$" t:none

# Require Content-Length to be provided with every POST request.
SecRule REQUEST_METHOD "^POST$" "chain,phase:2,t:none,deny,log,auditlog,status:400,msg:'POST request must have a Content-Length header',id:'960012',tag:'PROTOCOL_VIOLATION/EVASION',severity:'4'"
SecRule &REQUEST_HEADERS:Content-Length "@eq 0" t:none

# Don't accept transfer encodings we know we don't know how to handle
SecRule REQUEST_HEADERS:Transfer-Encoding "!^$" "phase:2,t:none,deny,log,auditlog,status:501,msg:'ModSecurity does not support transfer encodings',id:'960013',tag:'PROTOCOL_VIOLATION/EVASION',severity:'3'"

# Check decodings
SecRule REQUEST_FILENAME|ARGS|ARGS_NAMES|REQUEST_HEADERS|!REQUEST_HEADERS:Referer "@validateUrlEncoding" \
"chain, deny,log,auditlog,msg:'URL Encoding Abuse Attack Attempt',id:'950107',severity:'4'"
SecRule REQUEST_FILENAME|ARGS|ARGS_NAMES|REQUEST_HEADERS|!REQUEST_HEADERS:Referer "\%(?![0-9a-fA-F]{2}|u[0-9a-fA-F]{4})"

SecRule REQUEST_FILENAME|ARGS|ARGS_NAMES|REQUEST_HEADERS|!REQUEST_HEADERS:Referer "@validateUtf8Encoding" "deny,log,auditlog,msg:'UTF8 Encoding Abuse Attack Attempt',id:'950801',severity:'4'"

# Proxy access attempt
SecRule REQUEST_URI_RAW ^\w+:/ "phase:2,t:none,deny,log,auditlog,status:400,msg:'Proxy access attempt', severity:'2',id:'960014',tag:'PROTOCOL_VIOLATION/PROXY_ACCESS'"

# Restrict type of characters sent
SecRule REQUEST_FILENAME|REQUEST_HEADERS_NAMES|REQUEST_HEADERS|!REQUEST_HEADERS:Referer \
"@validateByteRange 1-255" \
"log,auditlog,msg:'Request Missing an Accept Header', severity:'2',id:'960015',t:urlDecodeUni,phase:1"

SecRule ARGS|ARGS_NAMES "@validateByteRange 1-255" \
"deny,log,auditlog,msg:'Invalid character in request',id:'960901',severity:'4',t:urlDecodeUni,phase:2"

# allow request methods
SecRule REQUEST_METHOD "!^((?:(?:POS|GE)T|OPTIONS|HEAD))$" \
"phase:2,t:none,log,auditlog,status:501,msg:'Method is not allowed by policy', severity:'2',id:'960032',tag:'POLICY/METHOD_NOT_ALLOWED'"

# Restrict file extension
# removed exe so that frontpage will work

# Restricted HTTP headers
SecRule REQUEST_HEADERS_NAMES "\.(?:Lock-Token|Translate|If)$" \
"deny,log,auditlog,msg:'HTTP header is restricted by policy',id:'960038',severity:'4'"

SecRule HTTP_User-Agent "(?:\b(?:m(?:ozilla\/4\.0 \(compatible\)|etis)|webtrends security analyzer|pmafind)\b|n(?:-stealth|sauditor|essus|ikto)|b(?:lack ?widow|rutus|ilbo)|(?:jaascoi|paro)s|internet explorer|webinspect|\.nasl)" \
"deny,log,auditlog,msg:'Request Indicates a Security Scanner Scanned the Site',id:'990002',severity:'2'"
SecRule REQUEST_HEADERS_NAMES "\bacunetix-product\b" \
"deny,log,auditlog,msg:'Request Indicates a Security Scanner Scanned the Site',id:'990901',severity:'2'"
SecRule REQUEST_FILENAME "^/nessustest" \
"deny,log,auditlog,msg:'Request Indicates a Security Scanner Scanned the Site',id:'990902',severity:'2'"

SecRule REQUEST_HEADERS:User-Agent "(?:m(?:ozilla\/(?:4\.0 \(compatible; advanced email extractor|2\.0 \(compatible; newt activex; win32\))|ailto:craftbot\@yahoo\.com)|e(?:mail(?:(?:collec|harves|magne)t|(?: extracto|reape)r|siphon|wolf)|(?:collecto|irgrabbe)r|xtractorpro|o browse)|a(?:t(?:tache|hens)|utoemailspider|dsarobot)|w(?:eb(?:emailextrac| by mail)|3mir)|f(?:astlwspider|loodgate)|p(?:cbrowser|ackrat|surf)|(?:digout4uagen|takeou)t|(?:chinacla|be)w|hhjhj@yahoo|rsync|shai|zeus)" \
"deny,log,auditlog,msg:'Rogue web site crawler',id:'990012',severity:'2'"

SecRule REQUEST_HEADERS:User-Agent "(?:\b(?:(?:indy librar|snoop)y|microsoft url control|lynx)\b|d(?:ownload demon|isco)|w(?:3mirror|get)|l(?:ibwww|wp)|p(?:avuk|erl)|cu(?:sto|rl)|big brother|autohttp|netants|eCatch)" \
"chain,log,auditlog,msg:'Request Indicates an automated program explored the site',id:'990011',severity:'5'"
SecRule REQUEST_HEADERS:User-Agent "!^apache.*perl"

# Session fixation
SecRule REQUEST_FILENAME|ARGS|ARGS_NAMES|REQUEST_HEADERS|XML:/*|!REQUEST_HEADERS:Referer "@pm set-cookie .cookie" \
"phase:2,t:none,t:urlDecodeUni,t:htmlEntityDecode,t:compressWhiteSpace,t:lowercase,pass,nolog,skip:1"
SecAction phase:2,pass,nolog,skipAfter:959009
SecRule REQUEST_FILENAME|ARGS|ARGS_NAMES "(?:\.cookie\b.*?;\W*?(?:expires|domain)\W*?=|\bhttp-equiv\W+set-cookie\b)" \
"phase:2,t:none,t:htmlEntityDecode,t:compressWhiteSpace,t:lowercase,capture,ctl:auditLogParts=+E,log,auditlog,msg:'Session Fixation',id:'950009',tag:'WEB_ATTACK/SESSION_FIXATION',logdata:'%{TX.0}',severity:'2'"
SecRule REQUEST_HEADERS|XML:/*|!REQUEST_HEADERS:Referer "(?:\.cookie\b.*?;\W*?(?:expires|domain)\W*?=|\bhttp-equiv\W+set-cookie\b)" \
"phase:2,t:none,t:urlDecodeUni,t:htmlEntityDecode,t:compressWhiteSpace,t:lowercase,capture,ctl:auditLogParts=+E,log,auditlog,msg:'Session Fixation',id:'959009',tag:'WEB_ATTACK/SESSION_FIXATION',logdata:'%{TX.0}',severity:'2'"

# Blind SQL injection
SecRule REQUEST_FILENAME|ARGS|ARGS_NAMES|REQUEST_HEADERS|XML:/*|!REQUEST_HEADERS:Referer "@pm sys.user_triggers sys.user_objects @@spid msysaces instr sys.user_views sys.tab charindex sys.user_catalog constraint_type locate select msysobjects attnotnull sys.user_tables sys.user_tab_columns sys.user_constraints waitfor mysql.user sys.all_tables msysrelationships msyscolumns msysqueries" \
"phase:2,t:none,t:urlDecodeUni,t:htmlEntityDecode,t:lowercase,t:replaceComments,t:compressWhiteSpace,pass,nolog,skip:1"
SecAction phase:2,pass,nolog,skipAfter:959007
SecRule REQUEST_FILENAME|ARGS|ARGS_NAMES|REQUEST_HEADERS|!REQUEST_HEADERS:Referer "(?:\b(?:(?:s(?:ys\.(?:user_(?:(?:t(?:ab(?:_column|le)|rigger)|object|view)s|c(?:onstraints|atalog))|all_tables|tab)|elect\b.{0,40}\b(?:substring|ascii|user))|m(?:sys(?:(?:queri|ac)e|relationship|column|object)s|ysql.user)|c(?:onstraint_type|harindex)|attnotnull)\b|(?:locate|instr)\W+\()|\@\@spid\b)" \
"phase:2,capture,t:none,t:htmlEntityDecode,t:lowercase,t:replaceComments,t:compressWhiteSpace,ctl:auditLogParts=+E,log,auditlog,msg:'Blind SQL Injection Attack',id:'950007',tag:'WEB_ATTACK/SQL_INJECTION',logdata:'%{TX.0}',severity:'2'"
SecRule REQUEST_FILENAME|ARGS|REQUEST_HEADERS|!REQUEST_HEADERS:Referer "\b(?:(?:s(?:ys(?:(?:(?:process|tabl)e|filegroup|object)s|c(?:o(?:nstraint|lumn)s|at)|dba|ibm)|ubstr(?:ing)?)|user_(?:(?:(?:constrain|objec)t|tab(?:_column|le)|ind_column|user)s|password|group)|a(?:tt(?:rel|typ)id|ll_objects)|object_(?:(?:nam|typ)e|id)|pg_(?:attribute|class)|column_(?:name|id)|(?:dba|mb)_users|xtype\W+\bchar|rownum)\b|t(?:able_name\b|extpos\W+\())" \
"phase:2,capture,t:none,t:urlDecodeUni,t:htmlEntityDecode,t:lowercase,t:replaceComments,t:compressWhiteSpace,ctl:auditLogParts=+E,log,auditlog,msg:'Blind SQL Injection Attack',id:'959007',tag:'WEB_ATTACK/SQL_INJECTION',logdata:'%{TX.0}',severity:'2'"

SecRule REQUEST_FILENAME|ARGS|REQUEST_HEADERS|XML:/*|!REQUEST_HEADERS:Referer "@pm substr xtype textpos all_objects rownum sysfilegroups sysprocesses user_group sysobjects user_tables systables pg_attribute user_users user_password column_id attrelid user_tab_columns table_name pg_class user_constraints user_objects object_type dba_users sysconstraints mb_users column_name atttypid object_id substring syscat user_ind_columns sysibm syscolumns sysdba object_name" \
"phase:2,t:none,t:urlDecodeUni,t:htmlEntityDecode,t:replaceComments,t:compressWhiteSpace,t:lowercase,pass,nolog,skip:1"
SecAction phase:2,pass,nolog,skipAfter:959904
SecRule REQUEST_FILENAME|ARGS "\b(?:(?:s(?:ys(?:(?:(?:process|tabl)e|filegroup|object)s|c(?:o(?:nstraint|lumn)s|at)|dba|ibm)|ubstr(?:ing)?)|user_(?:(?:(?:constrain|objec)t|tab(?:_column|le)|ind_column|user)s|password|group)|a(?:tt(?:rel|typ)id|ll_objects)|object_(?:(?:nam|typ)e|id)|pg_(?:attribute|class)|column_(?:name|id)|(?:dba|mb)_users|xtype\W+\bchar|rownum)\b|t(?:able_name\b|extpos\W+\())" \
"phase:2,capture,t:none,t:htmlEntityDecode,t:replaceComments,t:compressWhiteSpace,t:lowercase,ctl:auditLogParts=+E,log,auditlog,msg:'Blind SQL Injection Attack',id:'950904',tag:'WEB_ATTACK/SQL_INJECTION',logdata:'%{TX.0}',severity:'2'"
SecRule REQUEST_HEADERS|XML:/*|!REQUEST_HEADERS:Referer "\b(?:(?:s(?:ys(?:(?:(?:process|tabl)e|filegroup|object)s|c(?:o(?:nstraint|lumn)s|at)|dba|ibm)|ubstr(?:ing)?)|user_(?:(?:(?:constrain|objec)t|tab(?:_column|le)|ind_column|user)s|password|group)|a(?:tt(?:rel|typ)id|ll_objects)|object_(?:(?:nam|typ)e|id)|pg_(?:attribute|class)|column_(?:name|id)|(?:dba|mb)_users|xtype\W+\bchar|rownum)\b|t(?:able_name\b|extpos\W+\())" \
"phase:2,capture,t:none,t:urlDecodeUni,t:htmlEntityDecode,t:replaceComments,t:compressWhiteSpace,t:lowercase,ctl:auditLogParts=+E,log,auditlog,msg:'Blind SQL Injection Attack',id:'959904',tag:'WEB_ATTACK/SQL_INJECTION',logdata:'%{TX.0}',severity:'2'"

# SQL injection
SecRule REQUEST_FILENAME|ARGS|ARGS_NAMES|REQUEST_HEADERS|XML:/*|!REQUEST_HEADERS:Referer "@pm insert xp_enumdsn infile openrowset nvarchar autonomous_transaction print data_type or outfile inner shutdown tbcreator @@version xp_filelist sp_prepare sql_longvarchar xp_regenumkeys xp_loginconfig xp_dirtree ifnull sp_addextendedproc xp_regaddmultistring delete sp_sqlexec and sp_oacreate sp_execute cast xp_ntsec xp_regdeletekey drop varchar xp_execresultset having utl_file xp_regenumvalues xp_terminate xp_availablemedia xp_regdeletevalue dumpfile isnull sql_variant select 'sa' xp_regremovemultistring xp_makecab 'msdasql' xp_cmdshell openquery sp_executesql 'sqloledb' dbms_java 'dbo' utl_http sp_makewebtask benchmark xp_regread xp_regwrite" \
"phase:2,t:none,t:urlDecodeUni,t:htmlEntityDecode,t:replaceComments,t:compressWhiteSpace,t:lowercase,pass,nolog,skip:1"
SecAction phase:2,pass,nolog,id:999501,skipAfter:959001
SecRule REQUEST_FILENAME|ARGS|ARGS_NAMES "(?:\b(?:(?:s(?:elect\b(?:.{1,100}?\b(?:(?:length|count|top)\b.{1,100}?\bfrom|from\b.{1,100}?\bwhere)|.*?\b(?:d(?:ump\b.*\bfrom|ata_type)|(?:to_(?:numbe|cha)|inst)r))|p_(?:(?:addextendedpro|sqlexe)c|(?:oacreat|prepar)e|execute(?:sql)?|makewebtask)|ql_(?:longvarchar|variant))|xp_(?:reg(?:re(?:movemultistring|ad)|delete(?:value|key)|enum(?:value|key)s|addmultistring|write)|e(?:xecresultset|numdsn)|(?:terminat|dirtre)e|availablemedia|loginconfig|cmdshell|filelist|makecab|ntsec)|u(?:nion\b.{1,100}?\bselect|tl_(?:file|http))|group\b.*\bby\b.{1,100}?\bhaving|d(?:elete\b\W*?\bfrom|bms_java)|load\b\W*?\bdata\b.*\binfile|(?:n?varcha|tbcreato)r)\b|i(?:n(?:to\b\W*?\b(?:dump|out)file|sert\b\W*?\binto|ner\b\W*?\bjoin)\b|(?:f(?:\b\W*?\(\W*?\bbenchmark|null\b)|snull\b)\W*?\()|a(?:nd\b ?(?:\d{1,10}|[\'\"][^=]{1,10}[\'\"]) ?[=<>]+|utonomous_transaction\b)|o(?:r\b ?(?:\d{1,10}|[\'\"][^=]{1,10}[\'\"]) ?[=<>]+|pen(?:rowset|query)\b)|having\b ?(?:\d{1,10}|[\'\"][^=]{1,10}[\'\"]) ?[=<>]+|print\b\W*?\@\@|cast\b\W*?\()|(?:;\W*?\b(?:shutdown|drop)|\@\@version)\b|'(?:s(?:qloledb|a)|msdasql|dbo)')" \
"phase:2,capture,t:none,t:htmlEntityDecode,t:replaceComments,t:compressWhiteSpace,t:lowercase,ctl:auditLogParts=+E,log,auditlog,msg:'SQL Injection Attack',id:'950001',tag:'WEB_ATTACK/SQL_INJECTION',logdata:'%{TX.0}',severity:'2'"
SecRule REQUEST_HEADERS|XML:/*|!REQUEST_HEADERS:Referer "(?:\b(?:(?:s(?:elect\b(?:.{1,100}?\b(?:(?:length|count|top)\b.{1,100}?\bfrom|from\b.{1,100}?\bwhere)|.*?\b(?:d(?:ump\b.*\bfrom|ata_type)|(?:to_(?:numbe|cha)|inst)r))|p_(?:(?:addextendedpro|sqlexe)c|(?:oacreat|prepar)e|execute(?:sql)?|makewebtask)|ql_(?:longvarchar|variant))|xp_(?:reg(?:re(?:movemultistring|ad)|delete(?:value|key)|enum(?:value|key)s|addmultistring|write)|e(?:xecresultset|numdsn)|(?:terminat|dirtre)e|availablemedia|loginconfig|cmdshell|filelist|makecab|ntsec)|u(?:nion\b.{1,100}?\bselect|tl_(?:file|http))|group\b.*\bby\b.{1,100}?\bhaving|d(?:elete\b\W*?\bfrom|bms_java)|load\b\W*?\bdata\b.*\binfile|(?:n?varcha|tbcreato)r)\b|i(?:n(?:to\b\W*?\b(?:dump|out)file|sert\b\W*?\binto|ner\b\W*?\bjoin)\b|(?:f(?:\b\W*?\(\W*?\bbenchmark|null\b)|snull\b)\W*?\()|a(?:nd\b ?(?:\d{1,10}|[\'\"][^=]{1,10}[\'\"]) ?[=<>]+|utonomous_transaction\b)|o(?:r\b ?(?:\d{1,10}|[\'\"][^=]{1,10}[\'\"]) ?[=<>]+|pen(?:rowset|query)\b)|having\b ?(?:\d{1,10}|[\'\"][^=]{1,10}[\'\"]) ?[=<>]+|print\b\W*?\@\@|cast\b\W*?\()|(?:;\W*?\b(?:shutdown|drop)|\@\@version)\b|'(?:s(?:qloledb|a)|msdasql|dbo)')" \
"phase:2,capture,t:none,t:urlDecodeUni,t:htmlEntityDecode,t:replaceComments,t:compressWhiteSpace,t:lowercase,ctl:auditLogParts=+E,log,auditlog,msg:'SQL Injection Attack',id:'959001',tag:'WEB_ATTACK/SQL_INJECTION',logdata:'%{TX.0}',severity:'2'"
SecRule REQUEST_FILENAME|ARGS|ARGS_NAMES "\b(\d+) ?= ?\1\b|[\'\"](\w+)[\'\"] ?= ?[\'\"]\2\b" \
"phase:2,capture,t:none,t:htmlEntityDecode,t:replaceComments,t:compressWhiteSpace,t:lowercase,ctl:auditLogParts=+E,log,auditlog,msg:'SQL Injection Attack',id:'950901',tag:'WEB_ATTACK/SQL_INJECTION',logdata:'%{TX.0}',severity:'2'"
SecRule REQUEST_HEADERS|XML:/*|!REQUEST_HEADERS:Referer "\b(\d+) ?= ?\1\b|[\'\"](\w+)[\'\"] ?= ?[\'\"]\2\b" \
"phase:2,capture,t:none,t:urlDecodeUni,t:htmlEntityDecode,t:replaceComments,t:compressWhiteSpace,t:lowercase,ctl:auditLogParts=+E,log,auditlog,msg:'SQL Injection Attack',id:'959901',tag:'WEB_ATTACK/SQL_INJECTION',logdata:'%{TX.0}',severity:'2'"
SecRule REQUEST_FILENAME|ARGS|REQUEST_HEADERS|XML:/*|!REQUEST_HEADERS:Referer "@pm user_objects object_type substr all_objects mb_users column_name rownum atttypid substring object_id user_group user_tables pg_attribute user_users column_id user_password attrelid object_name table_name pg_class" \
"phase:2,t:none,t:urlDecodeUni,t:htmlEntityDecode,t:replaceComments,t:compressWhiteSpace,t:lowercase,pass,nolog,skip:1"
SecAction phase:2,pass,nolog,skipAfter:959906
SecRule REQUEST_FILENAME|ARGS "\b(?:user_(?:(?:object|table|user)s|password|group)|a(?:tt(?:rel|typ)id|ll_objects)|object_(?:(?:nam|typ)e|id)|pg_(?:attribute|class)|column_(?:name|id)|substr(?:ing)?|table_name|mb_users|rownum)\b" \
"phase:2,capture,t:none,t:htmlEntityDecode,t:replaceComments,t:compressWhiteSpace,t:lowercase,ctl:auditLogParts=+E,log,auditlog,msg:'SQL Injection Attack',id:'950906',tag:'WEB_ATTACK/SQL_INJECTION',logdata:'%{TX.0}',severity:'2'"
SecRule REQUEST_HEADERS|XML:/*|!REQUEST_HEADERS:Referer "\b(?:user_(?:(?:object|table|user)s|password|group)|a(?:tt(?:rel|typ)id|ll_objects)|object_(?:(?:nam|typ)e|id)|pg_(?:attribute|class)|column_(?:name|id)|substr(?:ing)?|table_name|mb_users|rownum)\b" \
"phase:2,capture,t:none,t:urlDecodeUni,t:htmlEntityDecode,t:replaceComments,t:compressWhiteSpace,t:lowercase,ctl:auditLogParts=+E,log,auditlog,msg:'SQL Injection Attack',id:'959906',tag:'WEB_ATTACK/SQL_INJECTION',logdata:'%{TX.0}',severity:'2'"

SecRule REQUEST_FILENAME|ARGS|ARGS_NAMES|!REQUEST_HEADERS:via "\b(?:coalesce\b|root\@)" \
"phase:2,capture,t:none,t:htmlEntityDecode,t:replaceComments,t:compressWhiteSpace,t:lowercase,ctl:auditLogParts=+E,log,auditlog,msg:'SQL Injection Attack',id:'950908',tag:'WEB_ATTACK/SQL_INJECTION',logdata:'%{TX.0}',severity:'2'"
SecRule REQUEST_HEADERS|XML:/*|!REQUEST_HEADERS:Referer|!REQUEST_HEADERS:via "\b(?:coalesce\b|root\@)" \
"phase:2,capture,t:none,t:urlDecodeUni,t:htmlEntityDecode,t:replaceComments,t:compressWhiteSpace,t:lowercase,ctl:auditLogParts=+E,log,auditlog,msg:'SQL Injection Attack',id:'959908',tag:'WEB_ATTACK/SQL_INJECTION',logdata:'%{TX.0}',severity:'2'"

# XSS
SecRule REQUEST_FILENAME|ARGS|ARGS_NAMES|REQUEST_HEADERS|XML:/*|!REQUEST_HEADERS:Referer "@pm jscript onsubmit copyparentfolder javascript meta onmove onkeydown onchange onkeyup activexobject expression onmouseup ecmascript onmouseover vbscript: <![cdata[ http: settimeout onabort shell: .innerhtml onmousedown onkeypress asfunction: onclick .fromcharcode background-image: .cookie ondragdrop onblur x-javascript mocha: onfocus javascript: getparentfolder lowsrc onresize @import alert onselect script onmouseout onmousemove background application .execscript livescript: getspecialfolder vbscript iframe .addimport onunload createtextrange onload <input" \
"phase:2,t:none,t:urlDecodeUni,t:htmlEntityDecode,t:compressWhiteSpace,t:lowercase,pass,nolog,skip:1"
SecAction phase:2,pass,nolog,skipAfter:959004
SecRule REQUEST_FILENAME|ARGS|ARGS_NAMES "(?:\b(?:(?:type\b\W*?\b(?:text\b\W*?\b(?:j(?:ava)?|ecma|vb)|application\b\W*?\bx-(?:java|vb))script|c(?:opyparentfolder|reatetextrange)|get(?:special|parent)folder|iframe\b.{0,100}?\bsrc)\b|on(?:(?:mo(?:use(?:o(?:ver|ut)|down|move|up)|ve)|key(?:press|down|up)|c(?:hange|lick)|s(?:elec|ubmi)t|(?:un)?load|dragdrop|resize|focus|blur)\b\W*?=|abort\b)|(?:l(?:owsrc\b\W*?\b(?:(?:java|vb)script|shell|http)|ivescript)|(?:href|url)\b\W*?\b(?:(?:java|vb)script|shell)|background-image|mocha):|s(?:(?:tyle\b\W*=.*\bexpression\b\W*|ettimeout\b\W*?)\(|rc\b\W*?\b(?:(?:java|vb)script|shell|http):)|a(?:ctivexobject\b|lert\b\W*?\(|sfunction:))|<(?:(?:body\b.*?\b(?:backgroun|onloa)d|input\b.*?\btype\b\W*?\bimage)\b| ?(?:(?:script|meta)\b|iframe)|!\[cdata\[)|(?:\.(?:(?:execscrip|addimpor)t|(?:fromcharcod|cooki)e|innerhtml)|\@import)\b)" \
"phase:2,capture,t:none,t:htmlEntityDecode,t:compressWhiteSpace,t:lowercase,ctl:auditLogParts=+E,log,auditlog,msg:'Cross-site Scripting (XSS) Attack',id:'950004',tag:'WEB_ATTACK/XSS',logdata:'%{TX.0}',severity:'2'"
SecRule REQUEST_HEADERS|XML:/*|!REQUEST_HEADERS:Referer "(?:\b(?:(?:type\b\W*?\b(?:text\b\W*?\b(?:j(?:ava)?|ecma|vb)|application\b\W*?\bx-(?:java|vb))script|c(?:opyparentfolder|reatetextrange)|get(?:special|parent)folder|iframe\b.{0,100}?\bsrc)\b|on(?:(?:mo(?:use(?:o(?:ver|ut)|down|move|up)|ve)|key(?:press|down|up)|c(?:hange|lick)|s(?:elec|ubmi)t|(?:un)?load|dragdrop|resize|focus|blur)\b\W*?=|abort\b)|(?:l(?:owsrc\b\W*?\b(?:(?:java|vb)script|shell|http)|ivescript)|(?:href|url)\b\W*?\b(?:(?:java|vb)script|shell)|background-image|mocha):|s(?:(?:tyle\b\W*=.*\bexpression\b\W*|ettimeout\b\W*?)\(|rc\b\W*?\b(?:(?:java|vb)script|shell|http):)|a(?:ctivexobject\b|lert\b\W*?\(|sfunction:))|<(?:(?:body\b.*?\b(?:backgroun|onloa)d|input\b.*?\btype\b\W*?\bimage)\b| ?(?:(?:script|meta)\b|iframe)|!\[cdata\[)|(?:\.(?:(?:execscrip|addimpor)t|(?:fromcharcod|cooki)e|innerhtml)|\@import)\b)" \
"phase:2,capture,t:none,t:urlDecodeUni,t:htmlEntityDecode,t:compressWhiteSpace,t:lowercase,ctl:auditLogParts=+E,log,auditlog,msg:'Cross-site Scripting (XSS) Attack',id:'959004',tag:'WEB_ATTACK/XSS',logdata:'%{TX.0}',severity:'2'"

# file injection
SecRule REQUEST_FILENAME|ARGS|ARGS_NAMES|REQUEST_HEADERS|XML:/* "@pm .www_acl .htpasswd .htaccess boot.ini httpd.conf /etc/ .htgroup global.asa .wwwacl" \
"phase:2,t:none,t:urlDecodeUni,t:htmlEntityDecode,t:lowercase,pass,nolog,skip:1"
SecAction phase:2,pass,nolog,skipAfter:959005
SecRule REQUEST_FILENAME|ARGS|ARGS_NAMES "(?:\b(?:\.(?:ht(?:access|passwd|group)|www_?acl)|global\.asa|httpd\.conf|boot\.ini)\b|\/etc\/)" \
"phase:2,capture,t:none,t:htmlEntityDecode,t:lowercase,ctl:auditLogParts=+E,deny,log,auditlog,status:501,msg:'Remote File Access Attempt',id:'950005',tag:'WEB_ATTACK/FILE_INJECTION',logdata:'%{TX.0}',severity:'2'"
SecRule REQUEST_HEADERS|XML:/* "(?:\b(?:\.(?:ht(?:access|passwd|group)|www_?acl)|global\.asa|httpd\.conf|boot\.ini)\b|\/etc\/)" \
"phase:2,capture,t:none,t:urlDecodeUni,t:htmlEntityDecode,t:lowercase,ctl:auditLogParts=+E,deny,log,auditlog,status:501,msg:'Remote File Access Attempt',id:'959005',tag:'WEB_ATTACK/FILE_INJECTION',logdata:'%{TX.0}',severity:'2'"

# Command access
SecRule REQUEST_FILENAME "\b(?:n(?:map|et|c)|w(?:guest|sh)|cmd(?:32)?|telnet|rcmd|ftp)\.exe\b" \
"phase:2,capture,t:none,t:htmlEntityDecode,t:lowercase,ctl:auditLogParts=+E,deny,log,auditlog,status:501,msg:'System Command Access',id:'950002',tag:'WEB_ATTACK/FILE_INJECTION',logdata:'%{TX.0}',severity:'2'"

# Command injection
SecRule ARGS "@pm uname wguest.exe /perl /nasm rcmd.exe nc tclsh /xterm finger tftp chown /echo nmap.exe ping /passwd /chsh ps /uname telnet.exe /ftp ls tclsh8 lsof /ping echo cmd.exe /kill python traceroute /ps perl passwd wsh.exe /rm /cpp chgrp /telnet localgroup kill /chgrp /finger nasm /ls nc.exe id /chmod /nc /g++ /id /chown cmd /nmap chsh /gcc net.exe /python /lsof ftp.exe ftp xterm mail /mail tracert nmap rm cd chmod cpp telnet cmd32.exe gcc g++" \
"phase:2,t:none,t:htmlEntityDecode,t:lowercase,pass,nolog,skip:1"
SecAction phase:2,pass,nolog,skipAfter:950006
SecRule ARGS "(?:\b(?:(?:n(?:et(?:\b\W+?\blocalgroup|\.exe)|(?:map|c)\.exe)|t(?:racer(?:oute|t)|elnet\.exe|clsh8?|ftp)|(?:w(?:guest|sh)|rcmd|ftp)\.exe|echo\b\W*?\by+)\b|c(?:md(?:(?:32)?\.exe\b|\b\W*?\/c)|d(?:\b\W*?[\\\/]|\W*?\.\.)|hmod.{0,40}?\+.{0,3}x))|[\;\|\`]\W*?\b(?:(?:c(?:h(?:grp|mod|own|sh)|md|pp)|p(?:asswd|ython|erl|ing|s)|n(?:asm|map|c)|f(?:inger|tp)|(?:kil|mai)l|(?:xte)?rm|ls(?:of)?|telnet|uname|echo|id)\b|g(?:\+\+|cc\b))|\/(?:c(?:h(?:grp|mod|own|sh)|pp)|p(?:asswd|ython|erl|ing|s)|n(?:asm|map|c)|f(?:inger|tp)|(?:kil|mai)l|g(?:\+\+|cc)|(?:xte)?rm|ls(?:of)?|telnet|uname|echo|id)(?:[\'\"\|\;\`\-\s]|$))" \
"phase:2,capture,t:none,t:htmlEntityDecode,t:lowercase,ctl:auditLogParts=+E,deny,log,auditlog,status:501,msg:'System Command Injection',id:'950006',tag:'WEB_ATTACK/COMMAND_INJECTION',logdata:'%{TX.0}',severity:'2'"
SecRule REQUEST_HEADERS|XML:/*|!REQUEST_HEADERS:'/^(Cookie|Referer|X-OS-Prefs)$/'|REQUEST_COOKIES|REQUEST_COOKIES_NAMES \
"@pm uname wguest.exe /perl /nasm rcmd.exe nc tclsh /xterm finger tftp chown /echo nmap.exe ping /passwd /chsh ps /uname telnet.exe /ftp ls tclsh8 lsof /ping echo cmd.exe /kill python traceroute /ps perl passwd wsh.exe /rm /cpp chgrp /telnet localgroup kill /chgrp /finger nasm /ls nc.exe id /chmod /nc /g++ /id /chown cmd /nmap chsh /gcc net.exe /python /lsof ftp.exe ftp xterm mail /mail tracert nmap rm cd chmod cpp telnet cmd32.exe gcc g++" \
"phase:2,t:none,t:urlDecodeUni,t:htmlEntityDecode,t:lowercase,pass,nolog,skip:1"
SecAction pass,nolog,skipAfter:959006
SecRule REQUEST_HEADERS|XML:/*|!REQUEST_HEADERS:'/^(Cookie|Referer|X-OS-Prefs)$/'|REQUEST_COOKIES|REQUEST_COOKIES_NAMES \
"(?:\b(?:(?:n(?:et(?:\b\W+?\blocalgroup|\.exe)|(?:map|c)\.exe)|t(?:racer(?:oute|t)|elnet\.exe|clsh8?|ftp)|(?:w(?:guest|sh)|rcmd|ftp)\.exe|echo\b\W*?\by+)\b|c(?:md(?:(?:32)?\.exe\b|\b\W*?\/c)|d(?:\b\W*?[\\\/]|\W*?\.\.)|hmod.{0,40}?\+.{0,3}x))|[\;\|\`]\W*?\b(?:(?:c(?:h(?:grp|mod|own|sh)|md|pp)|p(?:asswd|ython|erl|ing|s)|n(?:asm|map|c)|f(?:inger|tp)|(?:kil|mai)l|(?:xte)?rm|ls(?:of)?|telnet|uname|echo|id)\b|g(?:\+\+|cc\b))|\/(?:c(?:h(?:grp|mod|own|sh)|pp)|p(?:asswd|ython|erl|ing|s)|n(?:asm|map|c)|f(?:inger|tp)|(?:kil|mai)l|g(?:\+\+|cc)|(?:xte)?rm|ls(?:of)?|telnet|uname|echo|id)(?:[\'\"\|\;\`\-\s]|$))" \
"phase:2,capture,t:none,t:urlDecodeUni,t:htmlEntityDecode,t:lowercase,ctl:auditLogParts=+E,deny,log,auditlog,status:501,msg:'System Command Injection',id:'959006',tag:'WEB_ATTACK/COMMAND_INJECTION',logdata:'%{TX.0}',severity:'2'"
SecRule ARGS \
"(?:(?:[\;\|\`]\W*?\bcc|\bwget)\b|\/cc(?:[\'\"\|\;\`\-\s]|$))" \
"phase:2,capture,t:none,t:htmlEntityDecode,t:lowercase,ctl:auditLogParts=+E,deny,log,auditlog,status:501,msg:'System Command Injection',id:'950907',tag:'WEB_ATTACK/COMMAND_INJECTION',logdata:'%{TX.0}',severity:'2'"
SecRule "REQUEST_HEADERS|XML:/*|!REQUEST_HEADERS:'/^(Cookie|Referer|X-OS-Prefs|User-Agent)$/'|REQUEST_COOKIES|REQUEST_COOKIES_NAMES" \
"(?:(?:[\;\|\`]\W*?\bcc|\bwget)\b|\/cc(?:[\'\"\|\;\`\-\s]|$))" \
"phase:2,capture,t:none,t:urlDecodeUni,t:htmlEntityDecode,t:lowercase,ctl:auditLogParts=+E,deny,log,auditlog,status:501,msg:'System Command Injection',id:'959907',tag:'WEB_ATTACK/COMMAND_INJECTION',logdata:'%{TX.0}',severity:'2'"

# SSI injection
SecRule REQUEST_FILENAME|ARGS|ARGS_NAMES "<!--\W*?#\W*?(?:e(?:cho|xec)|printenv|include|cmd)" \
"phase:2,capture,t:none,t:htmlEntityDecode,t:lowercase,ctl:auditLogParts=+E,deny,log,auditlog,status:501,msg:'SSI injection Attack',id:'950011',tag:'WEB_ATTACK/SSI_INJECTION',logdata:'%{TX.0}',severity:'2'"
SecRule REQUEST_HEADERS|XML:/* "<!--\W*?#\W*?(?:e(?:cho|xec)|printenv|include|cmd)" \
"phase:2,capture,t:none,t:urlDecodeUni,t:htmlEntityDecode,t:lowercase,ctl:auditLogParts=+E,deny,log,auditlog,status:501,msg:'SSI injection Attack',id:'959011',tag:'WEB_ATTACK/SSI_INJECTION',logdata:'%{TX.0}',severity:'2'"

# PHP injection
SecRule REQUEST_FILENAME|ARGS|ARGS_NAMES|REQUEST_HEADERS|XML:/* "@pm <?fgets move_uploaded_file $_session readfile ftp_put ftp_fget gzencode ftp_nb_put bzopen readdir $_post fopen gzread ftp_nb_fput ftp_nb_fget ftp_get $_get scandir fscanf readgzfile fread proc_open fgetc fgetss ftp_fput ftp_nb_get session_start fwrite gzwrite gzopen gzcompress" \
"phase:2,t:none,t:urlDecodeUni,t:htmlEntityDecode,t:lowercase,pass,nolog,skip:1"
SecAction pass,nolog,skipAfter:959013
SecRule REQUEST_FILENAME|ARGS|ARGS_NAMES "(?:(?:\b(?:f(?:tp_(?:nb_)?f?(?:ge|pu)t|get(?:s?s|c)|scanf|write|open|read)|gz(?:(?:encod|writ)e|compress|open|read)|s(?:ession_start|candir)|read(?:(?:gz)?file|dir)|move_uploaded_file|(?:proc_|bz)open)|\$_(?:(?:pos|ge)t|session))\b|<\?(?!xml))" \
"phase:2,capture,t:none,t:htmlEntityDecode,t:lowercase,ctl:auditLogParts=+E,deny,log,auditlog,status:501,msg:'PHP Injection Attack',id:'950013',tag:'WEB_ATTACK/PHP_INJECTION',tag:'WEB_ATTACK/HTTP_RESPONSSE_SPLITTING',logdata:'%{TX.0}',severity:'2'"
SecRule REQUEST_HEADERS|XML:/* "(?:(?:\b(?:f(?:tp_(?:nb_)?f?(?:ge|pu)t|get(?:s?s|c)|scanf|write|open|read)|gz(?:(?:encod|writ)e|compress|open|read)|s(?:ession_start|candir)|read(?:(?:gz)?file|dir)|move_uploaded_file|(?:proc_|bz)open)|\$_(?:(?:pos|ge)t|session))\b|<\?(?!xml))" \
"phase:2,capture,t:none,t:urlDecodeUni,t:htmlEntityDecode,t:lowercase,ctl:auditLogParts=+E,deny,log,auditlog,status:501,msg:'PHP Injection Attack',id:'959013',tag:'WEB_ATTACK/PHP_INJECTION',tag:'WEB_ATTACK/HTTP_RESPONSSE_SPLITTING',logdata:'%{TX.0}',severity:'2'"